The best season of the year is back! Backyard BBQ season!
Who doesn't love cooking in flipflops with an ice-cold drink in your hand? Outdoor cooking on the grill is easy and the unique flavors created from grilling are hard to beat.
Father's Day marked the start of BBQ season for me (Lisa, Crystal Ball Farm's Creamery Manager). My husband got a new grill for Father's Day.
All the kids pitched in and surprised him. It was fun to see the look on his face when he first saw the grill. We promptly made burgers.
Our last grill was literally falling apart. It had stopped us from using it for our favorite things like ribs, burgers and fish. It's no fun when everything is burning, and yet undercooked at the same time.
It's hard to have a 4th of July party without a grill.
I've been craving cheesy juicy Lucy burgers—the ones with the cheese in the middle of the burger. I've made them before but was very disappointed when all the cheese oozed out of most of them and started the grill on fire. Maybe it was the grill? I don't have time for kitchen (or grilling) failures when I have a crowd of people waiting for food.
I'm not going to let that happen again. Adding the cheese as part of the burger mix is an interesting and fun way to get an even more cheesy flavor. I've tried adding cheddar cheese to the ground beef, but it melts away when the burgers hit the grill. Cheese curds on the other hand, are a little firmer and do not melt as much because the cheese is not aged. If you want to make your burgers extra special, try adding a flavored cheese curd like ranch or dill.
Top each burger with an additional slice of smoked cheddar and you have a winning combination. Add a little bacon and you've got the perfect burger for the Fourth of July celebration with family and friends.
Bang! Yum. These burgers are loaded with flavor and will have you singing. Happy 4th of July!
Cheese Curd Burgers
4 onion buns, lightly buttered and grilled
1 lb. ground premium beef
4 slices of Crystal Ball Farm's Smoked cheddar cheese or our Chipotle Pepper Gouda
8 oz Crystal Ball Farm's cheese curds any flavor or plain, chopped into ¼ inch pieces (I used our new flavor: Tuscan Summer with hints of thyme and rosemary)
8 strips of cooked bacon (Optional)
½ tsp seasoned salt
1 small red onion, sliced
½ cup Honey BBQ sauce ( I like spicy, and I used Lupin gardens Habanero Honey BBQ-Yum!)
Preheat grill to 500℉ or above.
In a small bowl, mix the ground beef, chopped curds, and seasoned salt. Form into 4 patties by creating a small indentation the size of a tablespoon in the middle of each burger. When the burgers cook, they will not puff up in the middle and they will fit the bun better.
Place patties on the hot grill. Reduce temperature to medium and cook for 3-4 minutes. Flip and place the smoked cheese on each burger. Continue to cook until cooked throughout or to your liking.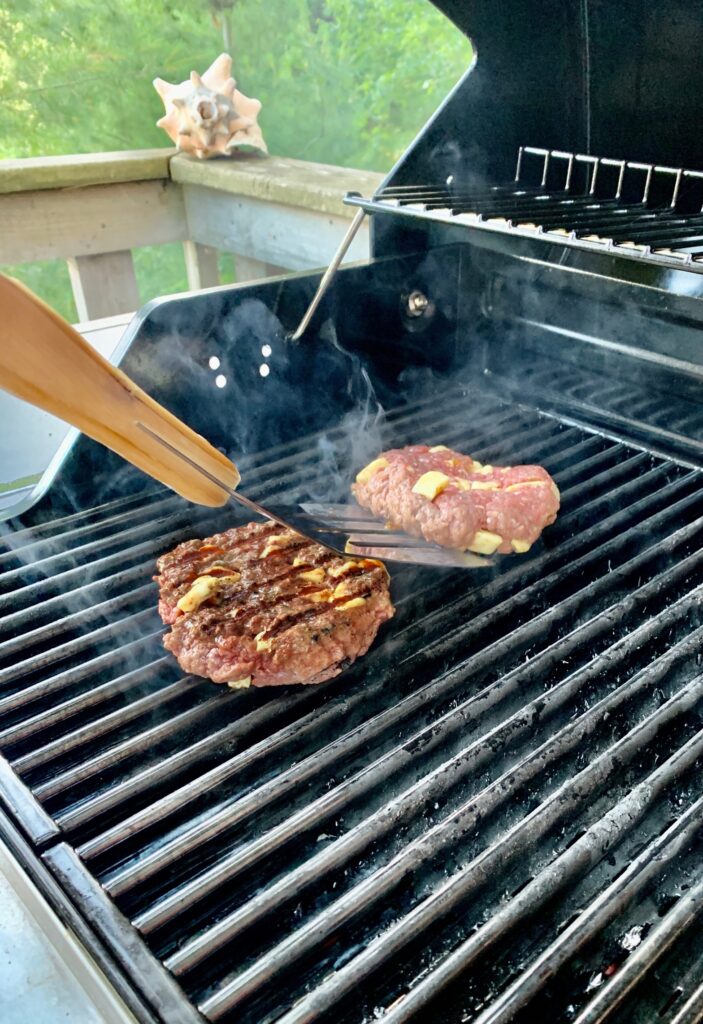 Place each burger on grilled buns. Top each with optional bacon, onion slice, and honey BBQ sauce. Serve immediately with chips and baked beans for a perfect Wisconsin picnic!