Farm to Family

All-Natural

Non-GMO

A2-Protien

Farmstead Milk and Cheese

Local Tastes Better
The future of dairy is about doing things the old fashioned way. Slowing down and focusing on what's best for our customers.
Welcome to Crystal Ball Farms. We're all about producing amazing milk and cheese. It's what we do.
We care about the quality of our milk and cheese. Only the best milk produces the best products. That's why we do not feed our cows anything but the best. We never give them antibiotics or hormones. We believe the highest quality milk comes from treating our cows with respect and providing them the most comfortable environment to live in. It's a quality difference you can taste. We guarantee you'll notice the difference!
Happy cows produce the best milk
We are a single herd producer who has bred exclusively for A2 proteins for over 14 years-one of the first to do so in the state of Wisconsin.
We know each cow by name. Let us introduce you to Cookie, Merry (born on Christmas morning), Red, Daisy, Holly and The Doughnut Snatcher (she's sneaky)….That means you know exactly where your milk comes from. Housed in our brand new state of the art barns, our cows are free to roam and hangout. Each cow has its own comfy bed to snuggle in. Milking happens in a snap in our semi automatic milking parlor.
Come and visit and get to know the people and animals that produce your premium milk and cheeses. We'd love to meet you!
Watch the cows being milked at  4pm Monday through Friday.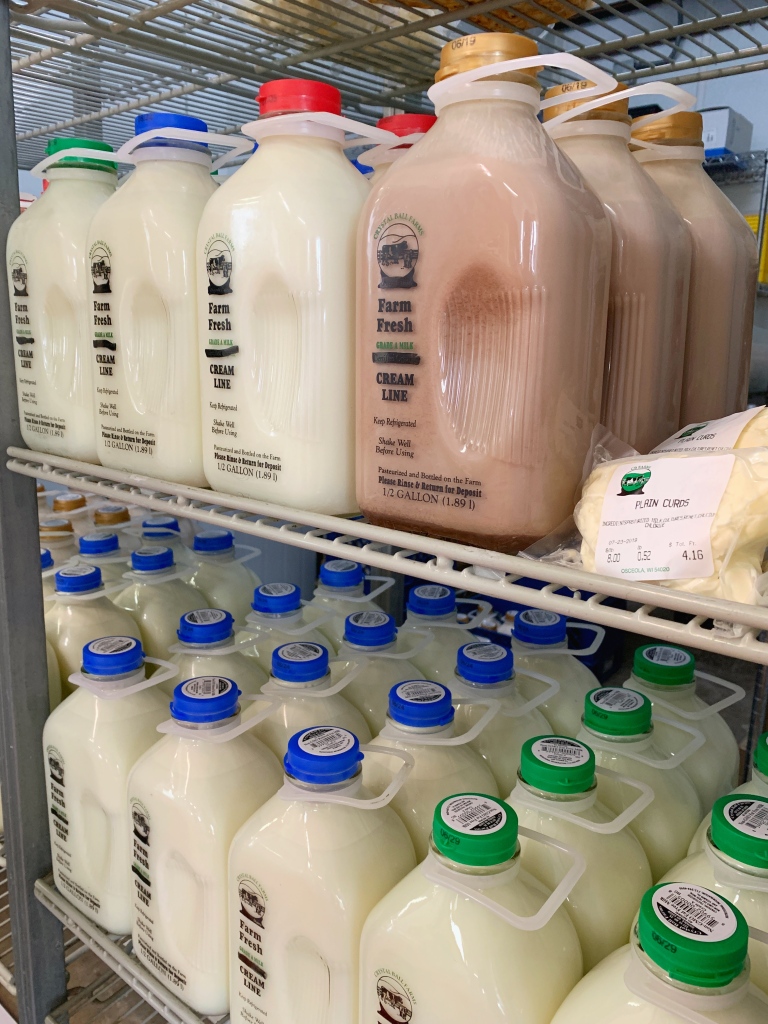 Visit our creamery store and pick up milk that was bottled the same day it was milked from the cows. Bring the family to watch the milk being bottled.
Great care goes into every drop — it's what we do best.
It's the freshest milk around. After the cows are milked, the milk is sent directly to the creamery. Everything happens in one place ensuring our customers get the absolute freshest milk possible. The milk is then vat pasteurized, which keeps the integrity of the enzymes and good bacteria naturally occurring in the milk, which means it's better for you.
We believe a higher quality product deserves the best packaging – Glass!
Our milk is processed by licensed pasteurizers who care. Every bottle is visually inspected by a hand to ensure only premium milk reaches your dinner table. Check out our product information page to learn more.